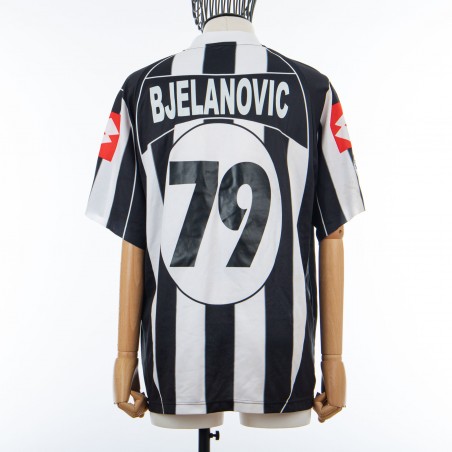 2005/2006 Ascoli Lotto Bjelanovic 79 Home Jersey. Shirt made by Lotto for the former footballer, with a forward role, Sasa Bjelanovic, who at the time played for Ascoli. XL size.
The product can be clearly observed from the many photos addressed to it. The shirt has short sleeves and its predominant colors are the white of the background and the wide black vertical stripes; at the top, from left to right we find the patch of CARISAP, the commercial sponsor from Ascoli, the club logo and the white one of Lotto, technical sponsor, inside a red square; below these elements, in a white space, the other commercial sponsor, GAUDI, with the subtitle JEAN & STYLE, is applied in white inside a red rectangle; finally, the Lotto brand is reproduced on both sleeves in the same way illustrated above.
On the back, in a black rectangle with one of the two longer sides curved, the white wording BJELANOVIC is applied, while, a little further down, in a white oval, there is a large number 79.