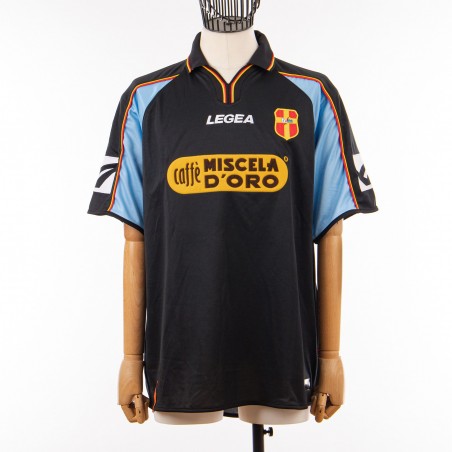 Messina away jersey made by the technical sponsor Legea, in collaboration with the commercial sponsor Caffè Mistura d'oro, for the 2004/2005 season. Model compliant with the conditions that can be deduced from the attached photographic evidence. XL size
The Messina away jersey is black, with light blue inserts on the sleeves. The collar and neckline are also black, but also characterized by the presence of thin yellow and red stripes, also recalled on the sleeves. At the center of the model, the lettering of the technical sponsor Legea can be read, whose logo is applied on both sleeves, in black and enclosed in a white box, and the logo of the commercial sponsor Caffè Immagina d'oro. On the heart side, however, the emblem of the sports club is sewn.
In the 2004/2005 season, Messina disputed the Serie A championship, following the promotion won a few months earlier, thanks to athletes such as Alessandro Parisi, Arturo Di Napoli, Marco Storari and Salvatore Aronica. President Pietro Franza strengthens the squad to ensure a good football performance for the fans and thus Riccardo Zampagna, Atsushi Yanagisawa, Rafael Pereira da Silva, Massimo Donati, Nicola Amoruso arrive in Messina. The club reaches, with its extraordinary results on the pitch, the seventh place in the standings and clearly detaches itself from the relegation zone.