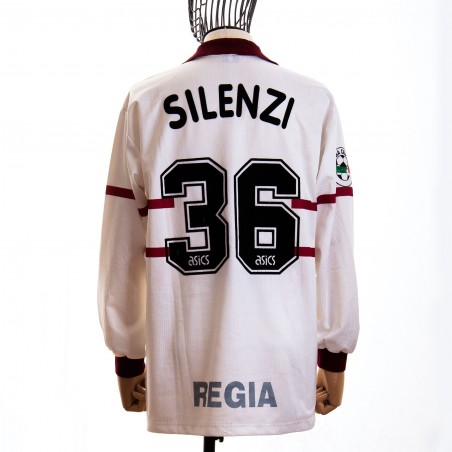 Preserved jersey in good condition, no major fabric imperfections noted. Present the manufacturer's label with the size XL.
DETAILS
Away long-sleeved jersey of Reggiana of the 1997/1998 season. White color with horizontal stripes granata, Lega Calcio patch sewn on the right sleeve, Reggiana logos, Asics and commercial sponsor Giglio sublimation on the front. Lettering "SILENZI" and number 36 flocked on the back.
ANECDOTES AND CURIOSITIES
In spite of the return of Andrea Silenzi, Reggiana did not make it to Serie A. At the end of the season, the team from Romagna will use 35 players, more than any other team in its category.
TOP PLAYERS: Silenzi, Tonetto, Cristiano Zanetti.
CLASSIFICATION IN THE CHAMPIONSHIP: 11th (Serie B).