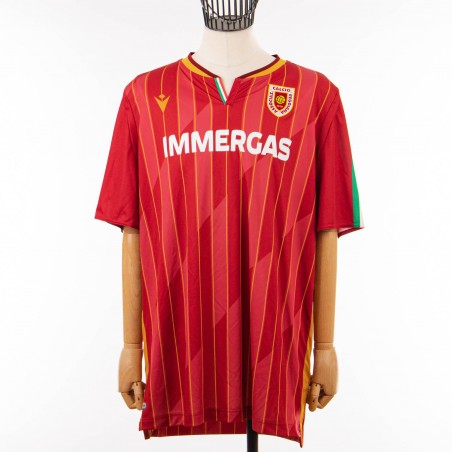 2020/2021 Reggiana Macron Match Jersey. Associazione Calcio Reggiana 1919 participated, in the aforementioned year, in the Italian Serie B championship, finishing in eighteenth place, consequently relegated to Serie C.
The condition of the product can be seen perfectly from the numerous photos. The shirt has long sleeves, has a collar with a V-shaped opening, and the color that characterizes it is largely garnet, which however alternates in geometric shapes in stronger and weaker shades, divided by thin vertical gold stripes; on the sleeves there are vertical tricolor bands; in the center of the shirt in thermo-applied and in white, the letters that form IMMERGAS, commercial sponsor of the team; above this, on the right, the golden Macron logo in sublimation, while on the left the Reggiana logo is sewn on.
The back of the shirt follows the chromatic trend of the front, with the addition of a small writing, in sublimatic, AC REGGIANA 1919. But what most distinguishes it is the presence at the bottom of the wording, in thermo-applied, 'autostile', in red enclosed in a white rectangle and preceded by the Alfa Romeo logo.