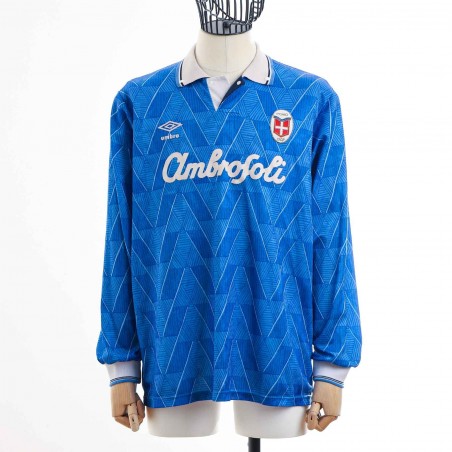 Stagione: 1991/1992
Taglia: L
PRODUCT STATUS
Shirt in excellent condition. Umbro logo and Como logo in perfect condition. Fabric in perfect condition. Large fit. There is no size label.
DETAILS
Light blue shirt with white collar with buttons. Umbro logo and Sponsor Ambrosoli. Umbro logo in white velvet. Como logo sewn side heart.
ANECDOTES AND CURIOSITY
The Como in the season 1991/1992 disputed the championship of Series C1 placing itself to the third place in the girone A. It was the first season that saw the relegation pass from 4 to three and also the first time that the Fidelis Andria managed to reach the Serie B.
TOP PLAYERS: Taibi, Bressan, Pradella.
CLASSIFICATION IN THE CHAMPIONSHIP: 3rd (Serie C1).