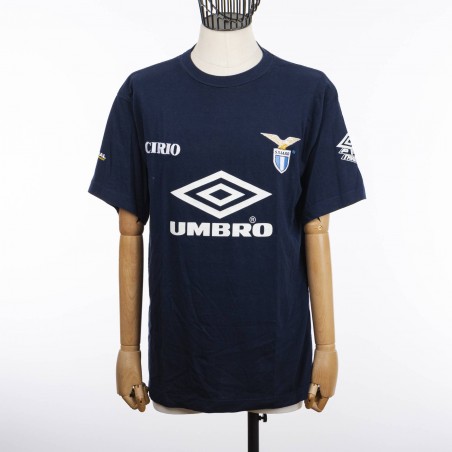 1995/1996 Lazio Umbro Training Jersey . In the year in question, the Biancoceleste football club closed the Serie A championship in third place in the standings, behind Juventus and Milan, which won the title. The best scorer of the team was Giuseppe Signori, who also graduated as top scorer, with 24 goals scored, tied with Igor Protti.
The product can already be evaluated through the many photos relating to it. The shirt has short sleeves and the dominant color is dark blue; on the front, the central section of the article is distinguished by the large white logo of the technical sponsor, with the company name at the bottom, both applied in sublimation, UMBRO; above this, the commercial sponsor, CIRIO, is embroidered on the top right, while the club logo is sewn on the opposite side; on the left sleeve we find again the Umbro logo, in reduced dimensions, followed by the words PRO and TRAINING, while on the right are the writings ORIGINAL and TRAINING PRODUCT, with the small logo of the technical sponsor in the middle.
On the back stands out at the height of the back, always applied in sublimation, the giant Umbro logo, followed by the company name, both in white.