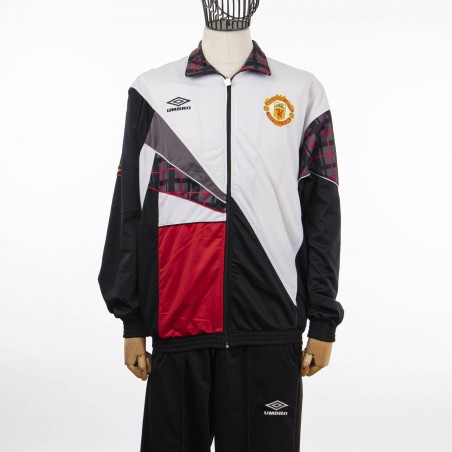 The suit made by Umbro for the 1992/1993 season is in excellent condition, the fabric is excellent, free of streaks and stains, with functional zips. Size is M
Walk out suit model, it comes with a singular pattern, mainly in white, black, red. Yours features a full-length front zip, the sleeves are black, while the inside of the collar is in a reticulated pattern, present both on the right shoulder and on the left side. present roomy side pockets with zip closure. On the upper front, predominantly white, the logo of the Umbrian technical sponsor and the Manchester United company crest are embroidered. The trousers are entirely black with the Umbro logo embroidered on the right thigh.
Strengthened by the purchase of Éric Cantona, they entered the fight for the title which until then involved Norwich City and Aston Villa. By winning the last seven games, Manchester United were able to overcome the last resistance of Aston Villa and bring home their first title twenty-six years after the last one achieved.