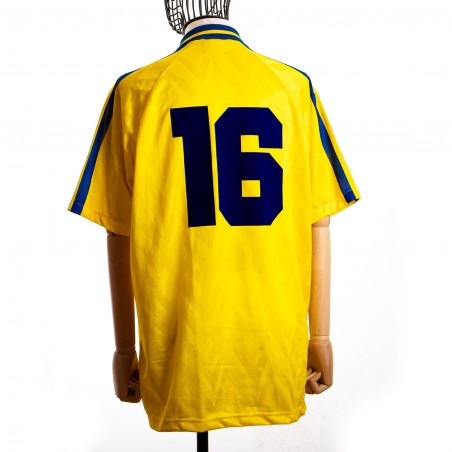 Preserved jersey in excellent condition. The fabric and some seams are ruined, the Parmalat sponsor is worn. Present inside the label with the size XL.
DETAILS:
Parma jersey made by Umbro for the 1992/1993 season. Italy Cup patch sewn on. The crest of the club is sewn. The commercial sponsor Parmalat is in flock. The logo of the technical sponsor is in flock. The number 16 is on the back in blue flock.
ANECDOTES AND CURIOSITIES:
The top scorer of the 92/93 season in the Ducal team was Alessandro Melli who scored a total of 15 goals between the championship and cups. From this season on, goalkeepers are no longer allowed to touch the ball with their hands on back passes.
TOP PLAYERS: Brolin, Asprilla, Melli, Grun, Taffarel, Benarrivo.
LEAGUE CLASSIFICATION: 3RD.