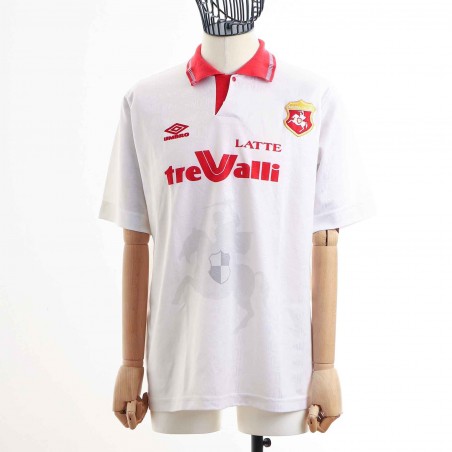 Season: 1992/1993
Taglia: XL
Product Condition
Shirt in excellent condition with no serious fabric imperfections. Also present is the manufacturer's label with size XL.
DETAILS
Ancona's short-sleeved white Away match shirt with red inserts and single button polo collar. Commercial sponsor logo sublimation on the abdomen, Ancona logo sewn on the heart side and Umbrian logo applied on the chest. 
ANECDOTES AND CURIOSITIES
The 1992/1993 season was the first for Ancona in Serie A but was immediately resolved with the relegation. To remember, however, the victory against Inter for 3-0.
TOP PLAYERS: Centofanti, Agostini, Caccia.
CLASSIFICATION IN CHAMPIONSHIP: 17TH.