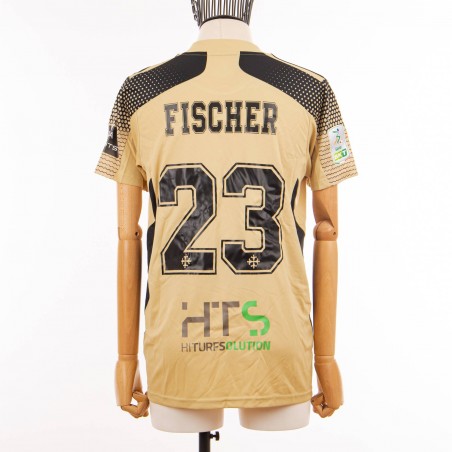 Pisa away jersey made by the technical sponsor Adidas, in collaboration with the commercial sponsors Synlab, Cetilarn and HTS for the 2021/2022 season. Personalization on the back of the product with the number 23 Fischer. Model compliant with the conditions that can be deduced from the attached photographic evidence. Size M
The Tuscan team's tunic is in gold, with geometric designs and black inserts.
Coat of arms of the sports club sewn on the heart side, logo of the technical sponsor Adidas and that of the commercial sponsor Synlab applied on the right side. Red cross shield and main sponsor Cetilar branding represented on the chest. Personalization with number 23 Fisher and back sponsor HTS legible on the back. Serie B patch on the left arm and commercial sponsor Maiora Ab yachts on the right arm.