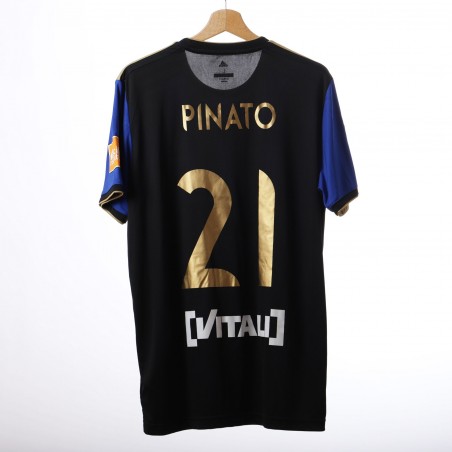 The jersey is well maintained, both in terms of the fabric and the colours. There are no signs of wear.
Inside there is also the manufacturer's label with the size L.
---
DETAILS
Home model with short sleeves and crew neck. Black and blue colours arranged in vertical stripes and gold edging.
The Pisa patch is applied on the heart side in rubber, in the centre we have the Pisan Cross and, on the right, the embroidery of the technical Adidas logo.
On the back, on a black background is applied the customization in gold PINATO 21.
The jersey is then complete with a Serie B patch and Respect patch.
The commercial sponsors are Facilcasa, Facile Ristrutturare and Vitali.
---
TOP PLAYERS
Marconi, Moscardelli, Siega.