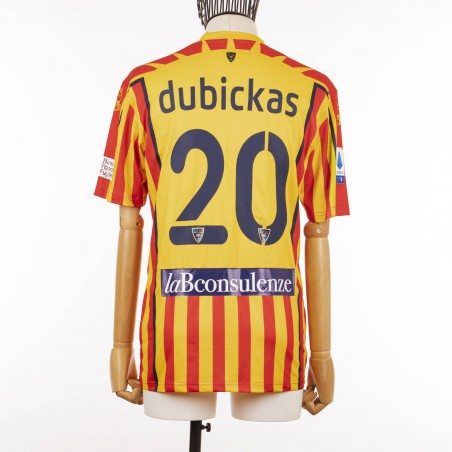 Lecce short sleeve home jersey worn by number 20 Dubickas during the 2020/2021 season. Also for this season, the M908 brand, self-produced, is confirmed as technical sponsor, while various sponsors appear as commercial partners: Pasta Maffei, Moby, Banca Popolare Pugliese and laBconsulenze. The model is in excellent condition, with no defects or streaks on the fabric. size not specified
The Lecce jersey, for the 2020/2021 season, has red and yellow vertical stripes on the front, with the emblem of the sports club sewn on the left, the logo of the technical sponsor M908 applied on the right and those of the sponsors Pasta Maffei and Moby on the center. The M908 logo is recalled on the right arm and the Italian Serie A patch is applied; on the left arm, however, the sponsor Banca Popolare Pugliese appears. The back sponsor laBconsulenze is represented together with the personalization of the number 20 Dubickas on the back of the jersey, in a large yellow box.
Edgaras Dubickas is a Lithuanian footballer, who played as a forward for Lecce in the 2020/2021 season, collecting few appearances and no goals. The Giallorossi team, coached by Eugenio Corini, however obtains a good position in fourth place in the Serie B standings, at the end of 2021.