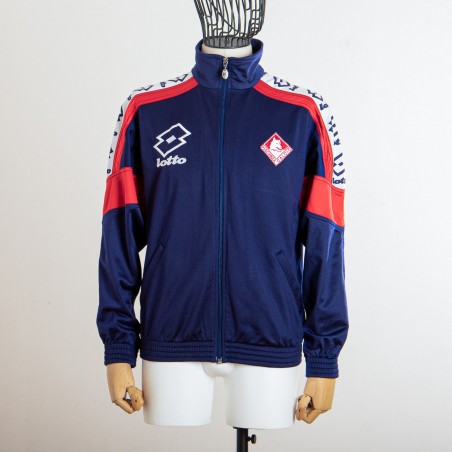 Stagione: 2000/2001
Condizioni del prodotto
Preserved jacket in excellent condition with logos and details intact. Present inside the label with the size M. 
DETAILS
Piacenza jacket season 2000/2001. On the front is embroidered on the right side the Lotto patch, on the heart side is sewn the Piacenza logo and on the back are applied the logos of commercial sponsors Copra and DAC.
ANECDOTES AND CURIOSITIES
In this season Novellino's Piacenza, driven by a super bomber Caccia, won the Serie A. The union between Copra, DAC and Lotto lasted for 3 seasons from 1998 to 2001.
TOP PLAYERS: Caccia, Roma, Tramezzani.
CLASSIFICATION IN CHAMPIONSHIP: 2° (Serie B).