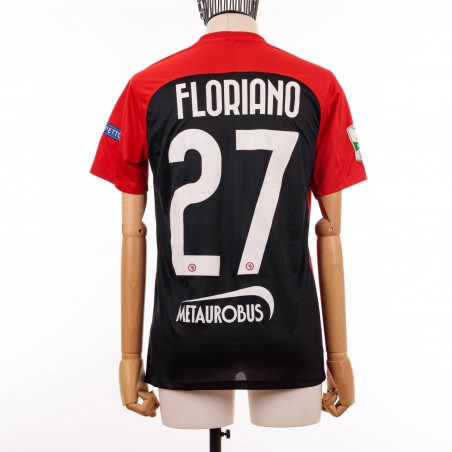 Foggia short-sleeved home jersey personalized with the number 27 Floriano. Model made by the technical sponsor Nike for the 2017/2018 season, in excellent condition. The fabric is uniform, without stains, halos or stretch marks; the colors are vivid and decisive. Size M.
The jersey of the team from Foggia is in black and red vertical stripes, while the shoulders, sleeves and collar are completely in red. The company crest is sewn on the heart side, while on the right side the logo of the technical sponsor Nike and the brand of the commercial sponsor Wüber are close to each other. The logo of the main sponsor Tamma is evident in the centre. The Italian Serie B patch is applied to the right arm, while the number 27 Floriano and the back sponsor Mataurobus are printed on the back, in white on a black background.
After 19 years, Foggia football returns to play in the Serie B championship, in the 2017/2018 season, led by coach Giovanni stroppa. Thanks to the indications of the coach and the qualities of the athletes, the Rossoneri team manages to bag several positive results and is positioned in ninth place in the standings. Among these professionals it is also possible to include the striker Floriano, who contributes to the team's victories with 5 goals.