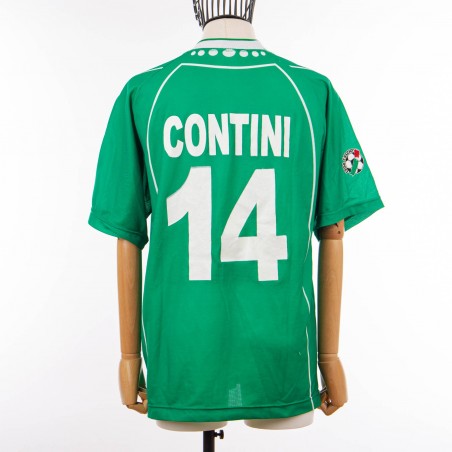 2003/2004 Avellino Devis Contini 14 Match Jersey. Matteo Contini, currently coach of Carpi, is a former professional footballer, central defender, who also made his debut in the Serie A championship on 26 September 2004, for Parma. In 2003/2004 Contini defended the colors of Avellino in Serie B, participating, despite himself, in the painful relegation of the Irpinia team to Serie C1, due to the twenty-third place in the standings.
The photos clearly show the condition of the product. The shirt is short-sleeved, with a normal white collar, but the color that distinguishes it is above all green. As regards the upper part of the article: at the top, the wording, in white, of the technical sponsor, 'devis', is applied in rubber; from the collar start two thin vertical white painted stripes that cross the whole shirt, together with white bubbles, also painted and white; the logo of the Irpinia team is sewn under the technical sponsor; even further down, the word, still applied in rubber and still in white, NewNet, or the commercial sponsor, at the base of which is, to the right, another wording in white, 'Gruppo Tufano'; finally, the LEGA CALCIO logo is sewn on the back of the right sleeve.
On the back of the article we find, painted in white and in considerable size, the surname of the defender, CONTINI, and 14, his shirt number.