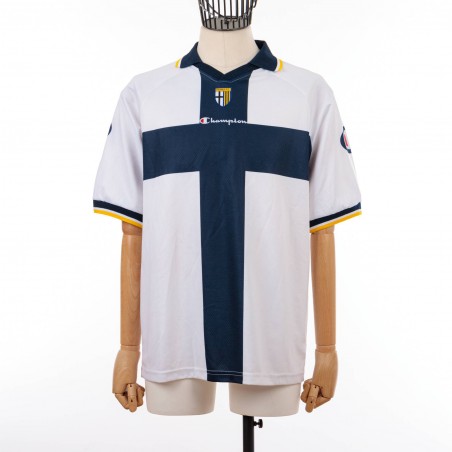 Parma home jersey produced by the technical sponsor Champion and worn by number 1 De Lucia during the 2004/2005 season. The model is in excellent condition, without defects and imperfections and the colors are still like the original ones, not faded. XL size
The Parma jersey is white, with a blue cross running across the front of the model. The edges of the sleeves and the jersey collar have the colors dark blue, white and yellow. The emblem of the sports club is sewn on the chest and the technical sponsor Champion is legible. The Champion logo is applied to both sleeves, while the patch of the Italian football league can only be seen on the right one. Finally, on the back there is the personalized print with the number 1 De Lucia, in blue.
The goalkeeper from Nola Alfonso De Lucia played in the Parma squad from 2011 to 2007, except in the 2003/2004 season, during which he wore the Salernitana shirt. Due to some disagreements with the fans, coach Stefano Pioli replaced him with second goalkeeper Luca Bucci. After this episode, the athlete packed his bags and moved to Livorno.