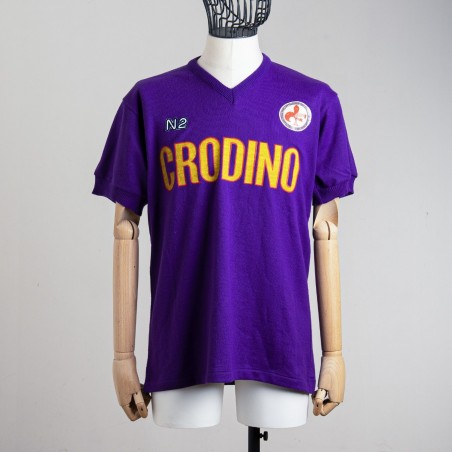 Season: 1987/1988
Taglia: L
PRODUCT DESCRIPTION
Shirt in excellent condition, some period details are still present. Manufacturer's size label is not present.
DETAILS
Fiorentina 1987/1988 season short sleeve training shirt. T-shirt entirely in purple wool with Crodino logo painted on the front of the shirt, N2 logo sewn on the right side and coat of arms with the Florentine lily applied to the heart side with the protective film still in place.
ANECDOTES AND CURIOSITIES
Fiorentina, for the first time without captain Giancarlo Antognoni but with a young and rampant Roberto Baggio, wins a good eighth place. Sven Goran Eriksson arrives at the technical helm, while Sergio Santarini takes over on the bench.
TOP PLAYERS: Baggio, Ramon Diaz, Battistini.
CLASSIFICATION IN CHAMPIONSHIP: 8TH.