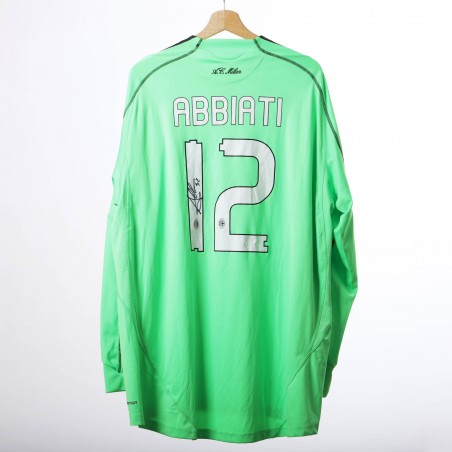 The goalkeeper shirt, produced by Adidas for the 2010/2011 season. 
Thermo-applied on the inside the manufacturer's label with size XL.
The shirt is autographed.
---
DETAILS
Goalkeeper model sweatshirt in green with black details. Milan patch in embroidery on the heart side and Adidas logo applied in black on the right.
On the back are printed lettering ABBIATI and the number 12. The commercial sponsor is Bwin.
---
ANECDOTES
This is the season of Allegri as coach and of the arrivals in the team of Ibrahimovic, Boateng and Robinho. The new squad leads the team to win the Serie A championship.
TOP PLAYERS
Ibrahimovic, Pato, Robinho.