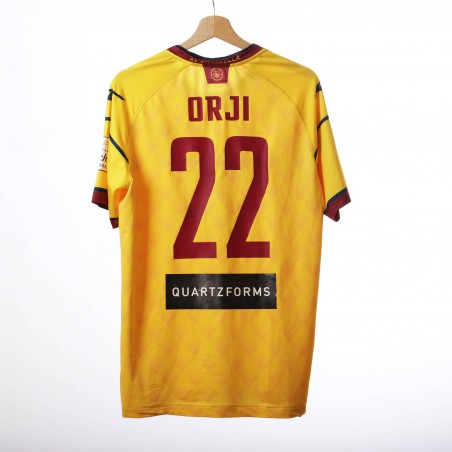 The jersey is in excellent condition, the fabric is intact and the colours are vibrant.
Label with the size L on the inside of the neck.
---
DETAILS
Away model in yellow with details in blue and burgundy. Short sleeves and crew neck.
The Cittadella patch is sewn on, while the Mizuno logo is applied in black rubber.
It also has the Mizuno seal of authenticity.
On the back of the neckline, the AS Cittadella writing is sublimation applied, while the ORJI 22 personalisation is applied in burgundy plastic.
Serie B patch applied on the right sleeve.
Main sponsors Sirmax and Gabrielli.
Other commercial sponsors present are Fratelli Cecchin and Quartzforms.
---
TOP PLAYERS 
Vita, Baldini, Okwonkwo