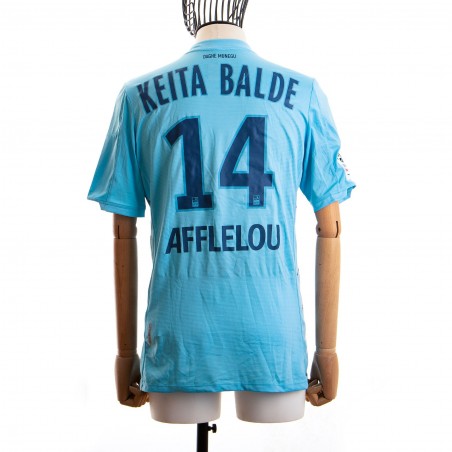 Shirt in excellent condition. Also present inside the manufacturer's heat-sealed label with size L.
DETAILS
Keita Bladè Monaco season 2019/2020 Third match shirt. On the front is applied the team logo on the heart side and is printed Kappa logo on the right side, as well as on the sides. On the back are printed lettering KEITA BALDE and number 14 in blue plastic with blue borders. On the right sleeve is the Ligue 1 patch and on the left sleeve is the logo of commercial sponsor Triangle Intèrim. The logo of the commercial sponsor FEDCOM is printed in light plastic in the center. On the bottom, on the back, there is the logo of the commercial sponsor Afflelou, inside is sewn the label of the manufacturer. On the back neck is printed the lettering DAGHE MUNEGU.
ANECDOTES AND CURIOSITIES
Founded in the Principality of Monaco, whose Royal Family also owns part of the corporate property, it is one of the few teams in the world in practice to be part of a foreign league, namely that of the federation of France. The classic red and white uniform cut in a crosswise manner was designed by Princess Grace Kelly herself.
TOP PLAYERS: Glik, Fabregas, Golovin, Jovetic, Ben Yedder.
LEAGUE CLASSIFICATION: 9TH.