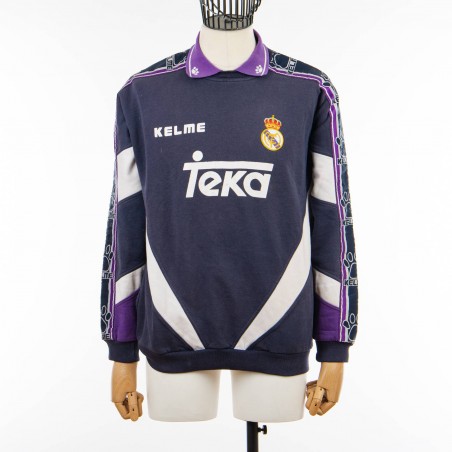 Real Madrid sweatshirt made by the technical sponsor Kelme for the 1994/1995 season, in collaboration with the commercial sponsor Teka. Model compliant with the conditions that can be deduced from the attached photographic evidence. Size not specified.
The Spanish team sweatshirt is dark purple, with purple and light lilac inserts. On the sleeves and along their entire lengths there is a fabric stripe with the colors dark blue, purple and light lilac, on which the brand and the logo of the sponsor Kelme are consecutively recalled. The emblem of the sports club is sewn on the heart side, the Kelme lettering is legible on the right side, also shown on the back, and in the center of the model instead that of the commercial sponsor Teka.
Real Madrid is the football club with the most prestigious trophy cabinet in the world and in the 1994/1995 season, thanks to coach Jorge Valdano, they pocketed first place in the Primera Division.