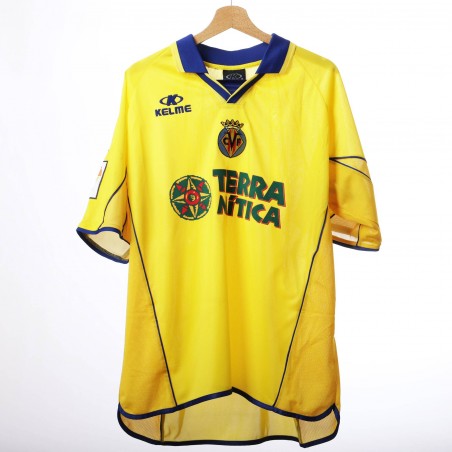 Villarreal home jersey made by Kelme for the 2001/2002 season 
DETAILS 
The home version jersey is kept in excellent condition. 
The colors of yellow and blue details are brilliant. 
Short sleeve model with Spagno League patch on the right arm. 
On both sleeves Kelme logo in sublimation. 
On the front in the center the coat of arms of the Madrid club. 
On the right in flok lettering and logo technical sponsor KELME. 
In the center main sponsor TERRA MITICA. 
ANECDOTE 
In this season Villarreal acquired El Loco, the Argentine Martin Palermo. He was a player that was wanted all over the world, even in Italy, Cragnotti's Lazio wanted him for their super formation of the time. He is, however, conquered by Villarreal and it is during the derby against Levante that a rather peculiar episode happens. After scoring the winning goal, taken by the competitive trance, he runs towards the fans but does not realize that the dividing wall is about to give way and is crushed, fracturing his tibia and fibula.