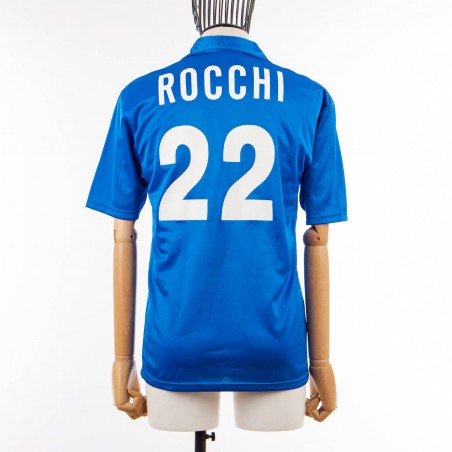 2002/2003 Empoli Errea Rocchi Match Jersey. Tommaso Rocchi is a former footballer, of a striker role, who played several seasons with the Empoli team, who managed to stay in Serie A also thanks to his goals, who even earned him the call of a prestigious team Like Lazio. In 2002/2003 the club, trained by Silvio Baldini, closed the season in thirteenth place and arrival until the round of 16 of the Coppa Italia. In the championship Rocchi was the footballer with the greatest number of appearances, as many as thirty -four, but the best marker of the Tuscans was Antonio Di Natale, by virtue of his thirteen creations.
The state of the product in question can be clearly deduced from the photos. The shirt is short -sleeved, mainly blue, with a raised collar with strings. On the front, at the top, towards the right side, the logo of the technical sponsor is applied in white silicone with the wording of this, 'Errea' at the bottom; On the left side, in velvet the logo of the Empoli F.C team; Below these, clearly visible in the center, here is the thermo -applicated the logo of the Sammontana commercial sponsor, with the additional Italian ice cream subtitle.
On the back of the shirt we find in white color and in considerable size Rocchi 22 customization.