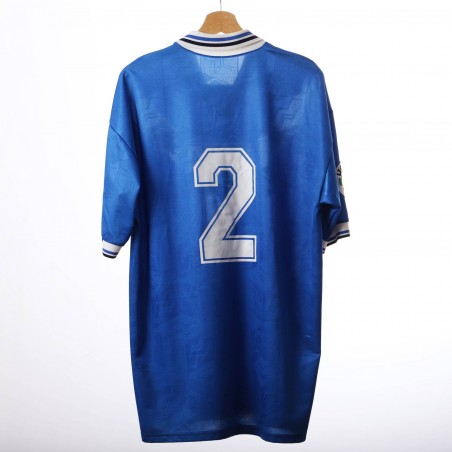 The jersey is in excellent condition, with no tears or signs of wear despite the passage of years.
Dimensions: height 80 cm, width 59 cm.
---
DETAILS
Home model in light blue colour with white details, short sleeves and polo collar.
Applied on the front, we have the team patch on the heart side and the ABM Logo on the right.
The number 2 is applied on the back in white light plastic, while the Lega Calcio patch is sewn on the right sleeve.
The commercial sponsor of the jersey is Brescia Lat.
---
ANECDOTS
The 1996/1997 season represents Brescia's third victory in Serie B, while the team was eliminated in the first round of the Coppa Italia.
TOP PLAYERS 
Neri, Bernardi, Bizzarri