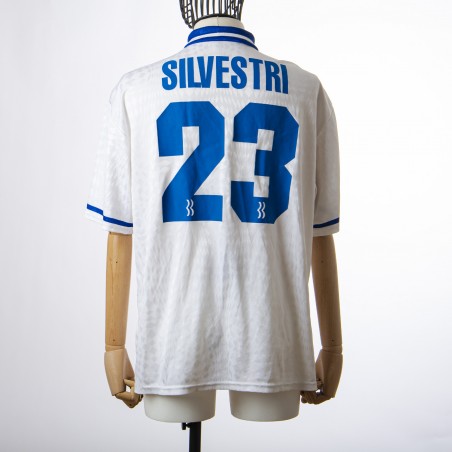 Fidel Andria away jersey made by Biemme with Silvestri 23 personalisation for the 1997/1998 season.
---
DETAILS 
Away Fidelis Andria jersey in excellent like-new condition. The fabric is fresh and soft to the touch and has no discontinuity of colour. Made in white, the colour is brilliant. Polo collar with snap button closure. Short-sleeved design with Football League patch on right arm. On the left side of the front sublimation of the Fidelis Andria coat of arms and on the right side sublimation of the logo and lettering of the technical sponsor Biamme. In the centre, the main sponsor BPA. On the back customization in light plastic SILVESTRI 23. Label inner size 5 that fits a size L. 
---

ANECDOTE: Fidelis Andria finished 12th in the 1997/1998 season in a salvation position to avoid relegation to Serie C. 

TOP PLAYERS: Biagioni, Gajic, Olive.

CLASSIFICATION IN THE CHAMPIONSHIP: 12th Serie B