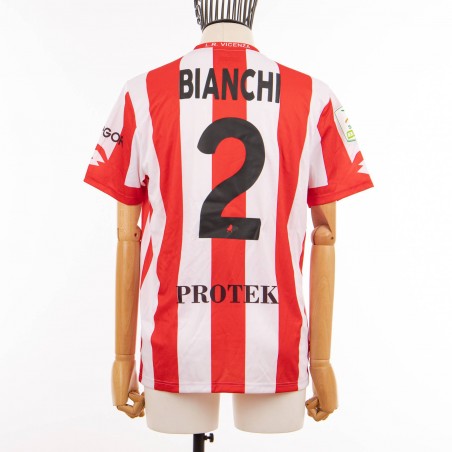 Vicenza home jersey made by technical sponsor Lotto for the 2019/2020 season and worn by number 2 Bianchi. Model compliant with the conditions that can be deduced from the attached photographic evidence. Size L
The Vicenza jersey has vertical red and white stripes, with the edges of the sleeves and crew neck in red.
Logo of the Rossi wool mill sewn on the heart side, logo of the technical sponsor Lotto and that of the commercial sponsor Aon applied on the right side and logo of the main sponsor Diesel legible on the chest. Lotto logo on the left arm and Legor logo reproduced on the right arm. Personalization with Bianchi number 2 and back sponsor Protek on the back of the jersey. Lettering of the sports club sewn on the back of the neck, in white.