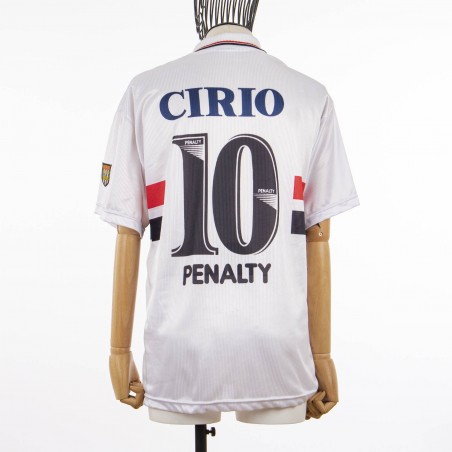 The shirt is in excellent condition, the fabric is excellent and has the original characteristics, soft to the touch, with intact seams, it has no streaks or discontinuities of colour. Free from stains and defects. Size L
White short-sleeved home shirt model. The shirt features a woven V-neck and a knit collar with red-black inserts, the corporate colours, which also characterize the two horizontal bands on the front in the center of the shirt. The latter host, in flock, the corporate crest, surmounted by the two stars, of the Brazilian team San Paolo. Above in sublimatic the commercial sponsor Cirio, while in the upper left the embroidered logo of the technical sponsor Penalty. On the back, in sublimation, the two sponsors and the number ten.
Among the main titles won in those are the 2000 Paulista Championship and the first victory in the Rio-São Paulo Tournament, in 2001. Rogério Ceni, Luís Fabiano and Kaká were the stars of those teams.