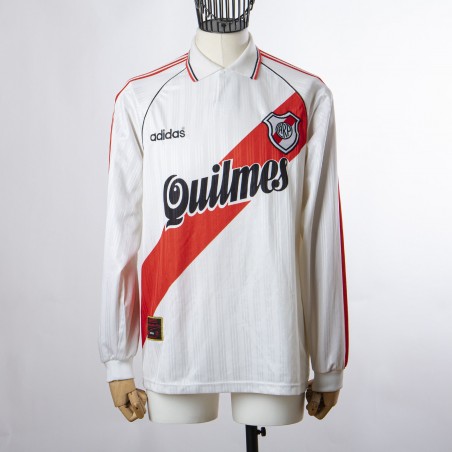 Preserved jersey in good condition, with no major imperfections showing signs of aging. Also present the manufacturer's label with the size T3, fit L.
DETAILS
Home model long sleeve jersey of River Plate season 1995/1996. White uniform with collar, cross band and red inserts. Adidas logo sewn on the front, Quilmes logo sublimated on the front back, Adidas logo embroidered on the right side.
ANECDOTES AND CURIOSITIES
River Plate is one of the two queens of Argentine soccer, bitter rival of Boca Juniors. Ramon Diaz, for many years the flag of River, was hired as a coach in his first experience.
TOP PLAYERS: Almeyda, Aimar, Francescoli, Ortega, Crespo.
CLASSIFICATION IN THE CHAMPIONSHIP: 7th (Apertura), 14th (Clausura).