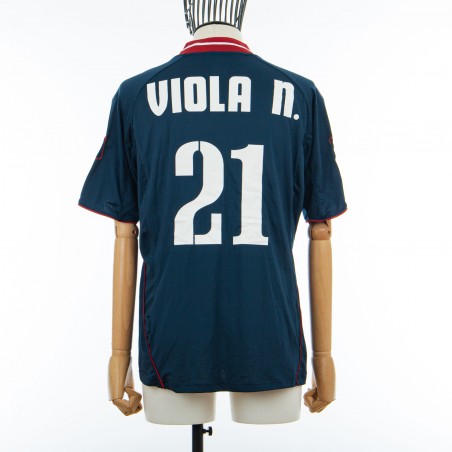 2010/2011 Reggina Onze Third Jersey VIOLA N 21 . Shirt of midfielder Nicolas Benito Viola, who took the first steps of his career in the amaranth shirt.
The product is clearly visible from the various photos. The shirt has short sleeves, has an amaranth and white collar and its predominant color is blue, with amaranth inserts; at the top we find, on the left, the name Stocco & Stocco, in white and blue, in the center the club logo and on the right the amaranth wording of ONZE, the technical sponsor of the Calabrians; below these stands out, in white, the inscription C CANALE; on the sleeves, moreover, the Onze logo is also proposed, also in amaranth.
On the back appear, in white and in large size, the wording 'viola n.' and the number 21.