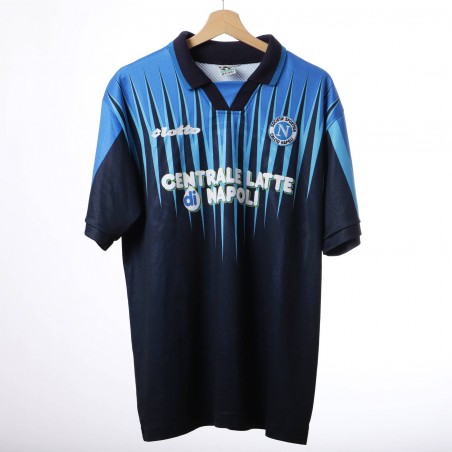 The Napoli jersey from the 1996/1997 season appears to be in excellent condition, with no signs of wear or haloing.
---
DETAILS
Short-sleeved third model with SSC Napoli sublimation lettering on the edges. Polo collar. 
On the frontal side SSC Napoli crest sewn on the heart side. On the right side, embroidered logo and writing of technical sponsor Lotto.
In the centre, sublimation main sponsor Centrale del latte di Napoli. 
---
ANECDOTES
Gigi Simoni's Napoli surprisingly came second at Christmas, but then collapsed dramatically in the Primavera. It also reached the Coppa Italia final, but lost to Vicenza, resulting in losses of millions and a subsequent financial crisis for the club. Alain Boghossian played the last of his 3 championships at Napoli this season.