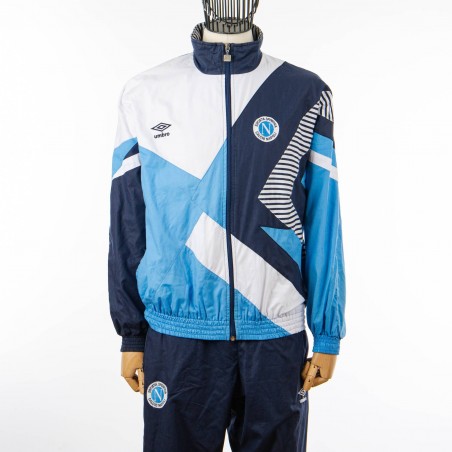 Napoli tracksuit made by the technical sponsor Umbro for the 1991/1992 season and in good condition. Model compliant with the conditions that can be deduced from the attached photographic evidence. S size
The tracksuit of the Neapolitan team consists of dark blue trousers and a jacket with full zip closure. The emblem of the sports club is sewn onto the left side of the jacket, reproposed on the right trouser leg, while the logo of the technical sponsor Umbro is applied to the right side of the jacket, this time on the left trouser leg. The jacket is, on the front, white with geometric inserts in light blue, white and blue and, on the back, in light blue.
Post-Maradona Naples saw the presence of Claudio Ranieri on the bench and among the athletes on the field the third strongest attack in the championship. Ferlaino's team was made up of champions such as Ferrara, Alemão, Blanc, Careca, Zola and Padovano, who reached third place in the league.