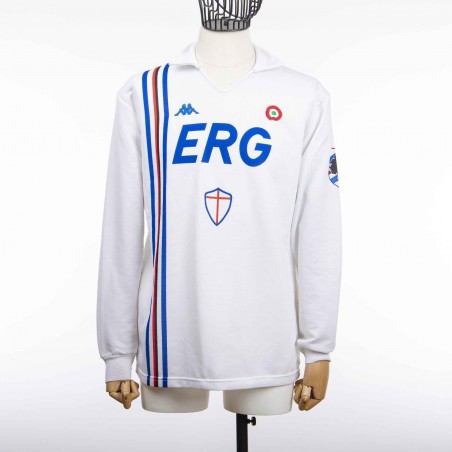 1988/1989 Sampdoria Kappa Away Jersey . In the aforementioned two-year period, the Sampdoria team had the merit above all of winning the Coppa Italia, also won the previous year, while they were defeated both in the Coppa delle Coppe final, by Barcelona, and in the first edition of the Supercoppa Italiana, to the advantage of Milan.
The state of the product is clearly visible from the photos relating to it. The shirt has long sleeves, with a stand-up collar, and is mainly characterized by the white colour; as regards the frontal section, on the right side two white and blue stripes run vertically, interspersed with two other smaller red and black stripes; the logo of the technical sponsor Kappa is embroidered at the top right, while the tricolor headband for those who win the Coppa Italia is sewn on the opposite side; below extends horizontally the large wording painted in blue ERG, the commercial sponsor; even further down there is a small white shield with blue edges, but in sublimation, inside which is placed a red cross; finally, on the left sleeve we find, still in sublimation, the logo of the Genoese club.
The back of the shirt has no elements to consider, beyond the completely white background.