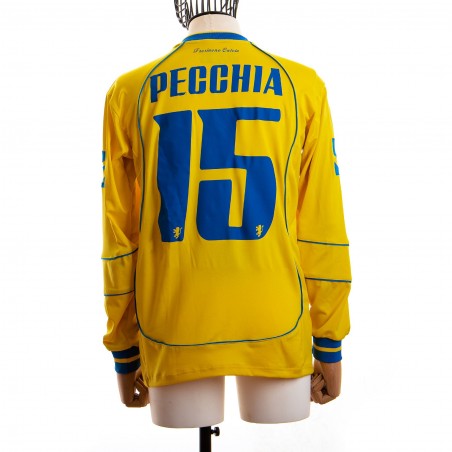 Preserved jersey in excellent condition. Logos intact and size L label present inside.
DETAILS
Away long sleeve match shirt produced by LEGEA for Frosinone in the 2007/2008 season. On the front is printed the logo of the commercial sponsor, is sewn the team logo and are embroidered logo LEGEA and the logo of the Province of Frosinone. On the back are printed lettering PECCHIA and number 15 in addition to the lettering FROSINONE CALCIO on the back neck. The Lega Calcio Serie B Tim patch is sewn on the right sleeve.
ANECDOTES AND CURIOSITIES
In the 2007/2008 season in Frosinone's roster there were both Antonio and Salvatore Bocchetti, two cousins. The top scorer of the championship was Godeas with 28 goals. 
TOP PLAYERS: Edèr Citadin Martins, Lodi, Pecchia.
LEAGUE CLASSIFICATION: 10TH.