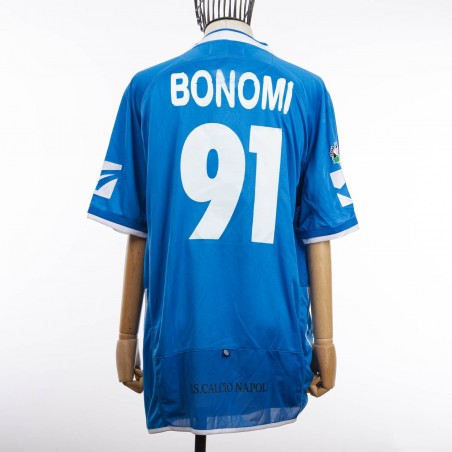 Napoli home jersey produced by Legea for the 2003/2004 season. The jersey is in good condition, the fabric retains its original characteristics in line, there are slight stains in the center. All 'inside Legea label certifying its authenticity. Size XL
Home model short sleeve light blue. The crew neck is in light blue white jersey, recalled at the cuffs the same inserts. Frontally the lettering of the sponsor Legea applied in flock, in the center of the chest the coat of arms of Napoli finely embroidered, below applied in flock the commercial sponsor Russo Cicciano. On both sleeves embroidered in white the Legea logo, while on the right side stitched the Serie B patch. On the back the Dionigi 91 personalization applied in flock. On the bottom on breathable fabric is applied the lettering S. S. Calcio Napoli.
the new coach of a weakened Napoli both on the field and in society was Andrea Agostinelli. The aforementioned was dismissed in his place was recalled Gigi Simoni who in the midst of a thousand difficulties managed to obtain at least salvation.