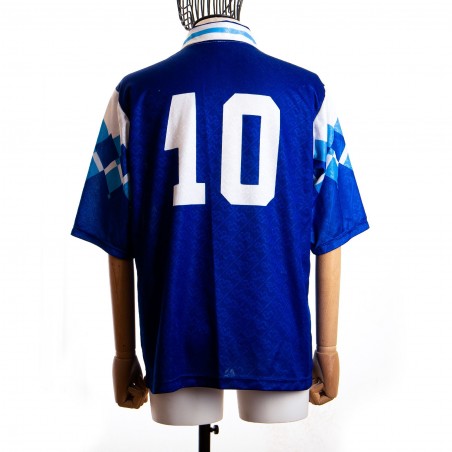 The jersey is in good condition, the fabric has a few imperfections due to wear. Present inside the torn label of size XL.
DETAILS
Pescara vintage Away race jersey in good condition, year 92/93, number 10 on the back in sublimation. Technical sponsor Pienne sewn, commercial sponsor Gelati Gis in the weft, team logo sewn.
ANECDOTES AND CURIOSITIES
The football season opens well for Pescara just ascended in Serie A also with the arrival of Danish John Sivebæk, Roger Mendy and Dunga. Also arrives the wonderful victory away from home with Roma in the first half of the season, but after 2/3 of the championship is unable to maintain its place in the top flight and is relegated. 
TOP PLAYERS: Sivebæk, Mendy, Dunga, Allegri, Borgonovo.
CLASSIFICATION IN CHAMPIONSHIP: 18TH.