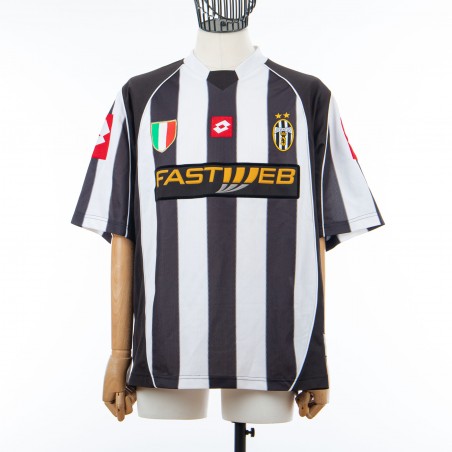 2002/2003 Juventus Lotto Home Jersey. During the period in question, the black and whites, reigning Italian champions, managed to defend the tricolor on their uniform. However, especially for Marcello Lippi, the epilogue of the season was still bitter, because at Old Trafford, in the Champions League final, the most coveted European trophy was won by Milan.
The product is clearly visible thanks to sufficient photographic documentation. The shirt is short-sleeved, white with the classic vertical black stripes, with black and white inserts up and down; always at the top, in the center, we find the club logo, the shield and the logo of Lotto, the club's technical sponsor; below these, the patch by Fastweb, the commercial sponsor, is applied; the Lotto logo is also found again on both sleeves.
On the back are a large black trapeze with curved ends and a giant white oval.