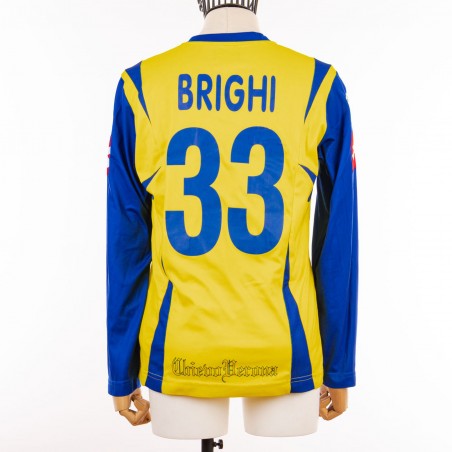 Chievo Verona long-sleeved match jersey made by technical sponsor Lotto and worn by number 33 Brighi in the 2006/2007 season. Model in excellent condition, except for some imperfections in the fabric and in the printing of the number, the colors are vivid. Size L.
The Chievo Verona jersey is yellow with blue inserts, blue sleeves, the mandarin collar, half yellow and half blue, from which you can see the blue fabric. The emblem of the football club is sewn on the heart side, the logo of the technical sponsor Lotto is applied on the right side and the logo of the commercial sponsor Paluani is legible in the centre. Both sleeves feature the Lotto logo on a red background, while the patch of the Italian Serie A football league can only be seen on the right. On the back of the product, in blue, there is the personalization with the number 33 Brighi and in the lower part you can read the lettering of Chievo Verona.
Matteo Brighi, former Italian striker, as well as athlete of the under 21 national team, was gifted with excellent technique and great grit. He played matches for Chievo from 2004 to 2007, collecting 89 appearances and scoring 9 goals.