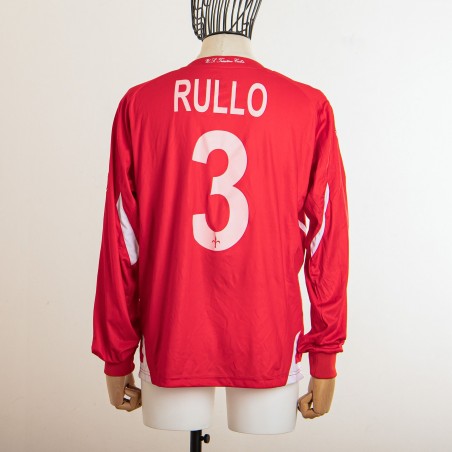 Stagione: 2008/2009
Condizioni del prodotto
Preserved jersey in perfect condition. Present inside, on the side, the printed label with the size L.
DETAILS
Home model jersey of Triestina with long red sleeves and white inserts. The Mass logo is embroidered on the front and the team logo is sewn, the Bossini logo is printed in the middle and the Fantinel logo is printed on the heart side. On the back neck is applied the lettering U.S. TRIESTINA CALCIO. On the back are applied in white lettering RULLO and number 3.
ANECDOTES AND CURIOSITIES
Erminio Rullo played only one season with Triestina, between his two experiences at Napoli. Triestina played a good championship led by Rolando Maran on the bench and by bomber Granoche in attack.
TOP PLAYERS: Granoche, Allegretti, Ardemagni.
CLASSIFICATION IN CHAMPIONSHIP: 8°.