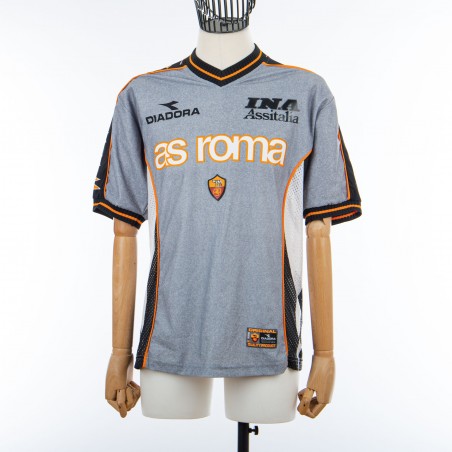 1998/1999 Roma Diadora Training T-Shirt. Diadora signed T-Shirt used during training by the football club AS Roma in the 1998/1999 vintage.
The product is clearly visible from the various photos. The t-shirt has short sleeves and its main color is grey, even if the presence of inserts in black, yellow and red is evident; top left and right, in sublimation, the logo of INA ASSITALIA and that of DIADORA, in black, are respectively applied; below these elements is the yellow wording with red edges 'as roma'; further down, in rubber, the club logo appears.
On the back, also in sublimation and in black but in larger dimensions, the Diadora logo and that of INA ASSITALIA are applied.