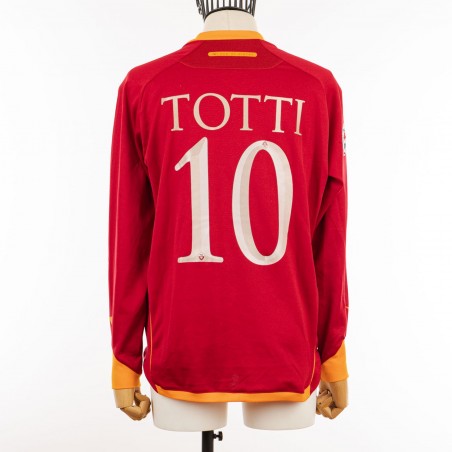 Roma long-sleeved home jersey made by the technical sponsor Diadora for the 2006/2007 season and personalized with the number 10 Totti. Model conforms to the conditions that can be deduced from the attached photographic findings. Size L

Roma's jersey is red, with yellow cuffs, pointed neckline and collar. At the center of the product you can see the technical sponsor Diadora and the emblem of the sports club. On the left arm is sewn the patch of the Italian Football League, while on the right one is reproduced the logo of Diadora in yellow. On the back you can read the personalization with the number 10 Totti, in white.

The former Roman striker, nicknamed 'er pupone', has never changed jersey during his career, he has always remained faithful to the Giallorossi colors. He was captain from 1998 to 2017, achieving a record of 19 seasons and winning a Scudetto, two Italian Super Cups and two Italian Cups.