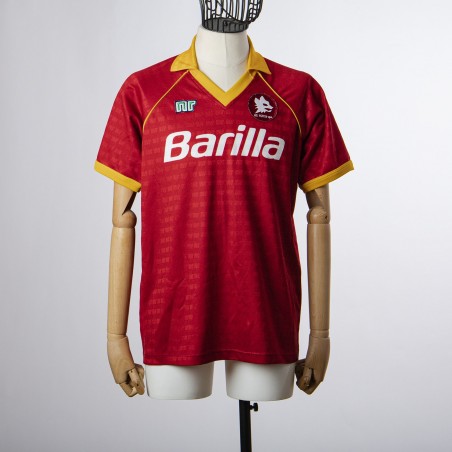 The Roma jersey, produced by Ennerre for the 1990/1991 season, is in fair condition with no particular signs of wear.
The inside size label is no longer present, but the dimensions are 73 cm high and 54 cm wide.
---
DETAILS
Red home model with yellow details. Short sleeve and polo collar. 
The team patch is stitched on the heart side on the front, while the logo of technical sponsor Ennerre is on the right, but we find it imprinted in the weave of the entire jersey.
The commercial sponsor is Barilla.
---
ANECDOTES
For Roma this was the season of the scandal known as the Lipopill affair, due to the positive doping test results of goalkeeper Angelo Peruzzi and Andrea Carnevale. Also in this season, president Dino Viola died of an intestinal tumour. These unpropitious events gave Roma a ninth place finish in the league.
TOP PLAYERS
Voller, Giannini, Carnevale.