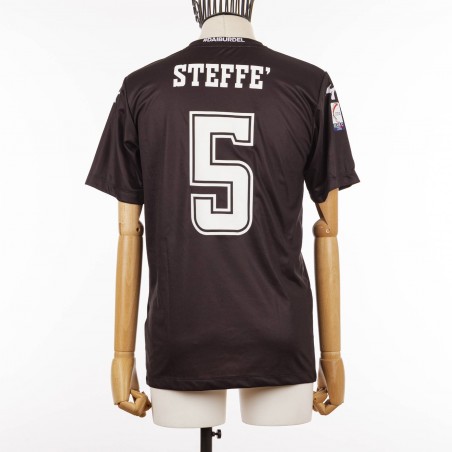 Cesena home jersey with short sleeves and personalized with the number 5 Steffè. The product made by the technical sponsor Mizuno, in collaboration with the commercial sponsor PLT puregreen, for the 2020/2021 season, is in excellent condition, the color has not faded and there are no defects. Size M.
The Cesena jersey is characterized by a bold black and white inserts on the shoulders. The emblem of the sports club is sewn on the left side, the logo of the technical sponsor Mizuno is applied to the right side and the brand of the commercial sponsor PLT puregreen is evident in the center. On the back of the neck there is the lettering '#DAIBURDEL' and on the back the print of the personalization of the number 5 Steffè.
The Trieste midfielder Demetri Steffè is part of Cesena Calcio and disputes the C1 series championship with it. In 2021 the sports club, until then owned by entrepreneurs from Romagna, officially becomes the property of the American group JRL Investments, of which they appear Robert Lewis and John Aiello.