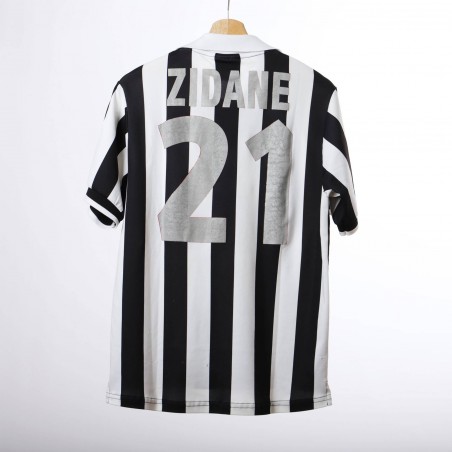 Juventus jersey from the 1998/1999 season, appears in good condition, but with some imperfections in the fabric and with faded personalisation.
Inside there is the label with the size S.
---
DETAILS
The shirt is a home model, produced by the technical sponsor Kappa, whose logo is embroidered on the right side of the front.
The tricolour shield is sewn on the heart side. Embroidered on the left sleeve is the team patch with the two stars.
On the back, silver ZIDANE lettering and the number 21 are printed.
Polo collar and half sleeve.
---
ANECDOTES
Given the excellent results of the previous season, the confirmation of the offensive pair Inzaghi - Del Piero, the coach Lippi and the veteran French Champion 1998, Zidane, arrived. Despite the positive start in Serie A, the team failed to bring home the expected good results, ending the season only with a 7th place in Serie A.
TOP PLAYERS
Inzaghi, Di Livio, Del Piero.