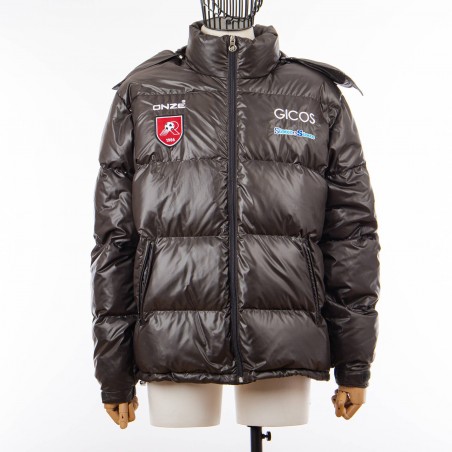 2005/2006 Reggina Onze Jacket. The aforementioned season was the sixth that Reggina played in Serie A. The year ended with the thirteenth place in the standings. To make a contribution in this sense were the striker Nicola Amoruso, who scored a total of eleven goals, and the midfielder Francesco Modesto, who collected the highest number of appearances among the amaranths, thirty-seven.
The characteristics of the product can be clearly seen from the various photos. The jacket is long-sleeved and predominantly gray in color, with a hood behind towards the back area; the commercial sponsors, GICOS and Stocco & Stocco are embroidered on the top left, while the club logo and the white wording of the technical sponsor, ONZE, are embroidered on the opposite side.
The back of the item, apart from the hood mentioned above, has no other relevant features.