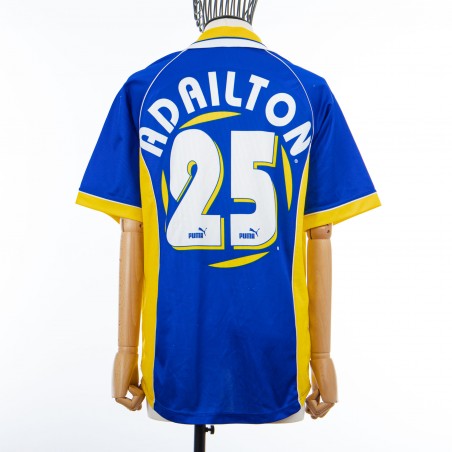 1997/1998 Parma Puma Adailton 25 Away Jersey. At the time, the Brazilian Adailton was part of a decidedly very strong group of players who made Parma one of the most competitive formations in Serie A: among these, Gianluigi Buffon, Enrico Chiesa, Hernan Crespo.
The product is clearly visible from the various photos. The shirt has short sleeves and its predominant color is blue, even if yellow is also used abundantly on the sides; the club logo is sewn on the top left, while the white logo of Puma, technical sponsor, is applied in flock on the opposite side; below these, the logo and the white wording of 'parmalat', the commercial sponsor of the ducals, stand out in sublimation.
On the back, in sublimation and in white, the writing ADAILTON appears in large dimensions, in a curved shape, and the number 25.