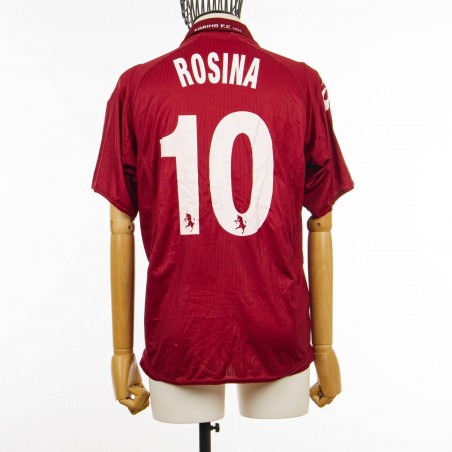 2007/2008 Torino Asics Rosina 10 Match Jersey. In the aforementioned two-year period, the playmaker Alessandro Rosina, thanks to the good performances in the previous championships, assumed an always important prominence in the grenade chessboard, as evidenced by the shirt's transition from the old number 20 to the more prestigious 10.
The product is clearly visible from the photos. The shirt has short sleeves, its main color is garnet and there is a stand-up collar; on the front, at chest height in the center, the club logo is embroidered, while on the right there is the white logo of the technical sponsor with its name, 'asics', while on the left the name of the commercial sponsor is applied , Beretta, both in white color and in sublimatic; further down, the wording of another commercial sponsor, REALE MUTUA ASSICURAZIONI, extends with the same technique and in the same colour; on the left sleeve there are also the Asics logo and the LEGA CALCIO SERIE A TIM patch.
On the rear section, the surname of the grenade playmaker ROSINA is thermo-applied in white, followed by a majestic number 10, with two small grenade bulls inside, at the ends of the 1 and 0.