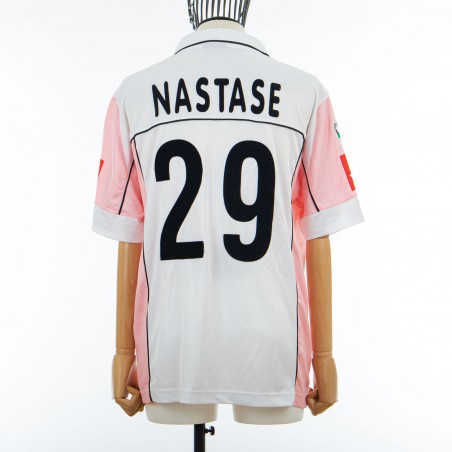 2003/2004 Palermo Lotto Nastase 29 Away Jersey. Shirt of the former footballer, defender role, Valentin Nastase, at the time a member of the rosanero club.
The product can be clearly seen from the many photos relating to it. The shirt is short-sleeved, has a stand-up collar and its predominant color is white, even if towards the sides and sleeves we also find pink, and some black inserts; at the top, from left to right, we have the club logo, that of the REGIONE SICILIANA and the white logo of Lotto, technical sponsor, in a red square; below these elements appears the wording 'Provincia di Palermo'.
As for the back, in black and large size, we have the writing NASTASE and the number 29.