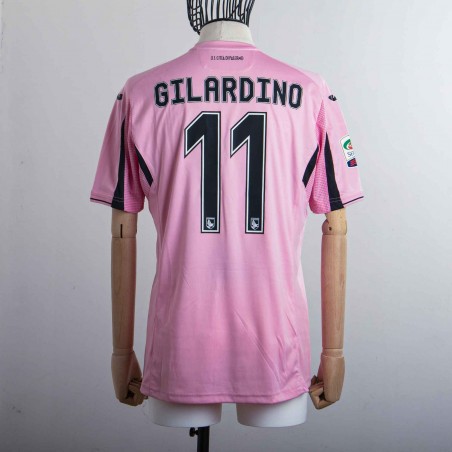 Stagione: 2015/2016
Taglia: L
PRODUCT STATUS
Preserved jersey in excellent condition, details intact and manufacturer's label printed inside with size L.
DETAILS
Home short sleeve match shirt of Palermo season 2015/2016. On the front is sewn the Palermo logo on the heart side while on the right side and on the right sleeve are applied Joma logos. On the right sleeve is sewn the patch Serie A Tim while on the rerto are applied in black lettering GILARDINO and number 11. Inside the collar there is the writing: "Pink like sweet, black like bitter, since 1907 our colors".
ANECDOTES AND CURIOSITIES
In this season, despite the departures of Dybala and Belotti and the 8 changes on the bench, Palermo managed to save itself at the last day. Gilardino was the team's top scorer. World Champion with Italy in 2006, Gilardino used to exult miming the violin. During his career, a chorus was dedicated to him by Parma fans ("Gilardino play us the violin") and an album by singer Povia ("Attaccante di mestiere").
TOP PLAYERS: Gilardino, Sorrentino, Cristante, Maresca, F. Vazquez.
LEAGUE CLASSIFICATION: 16TH.