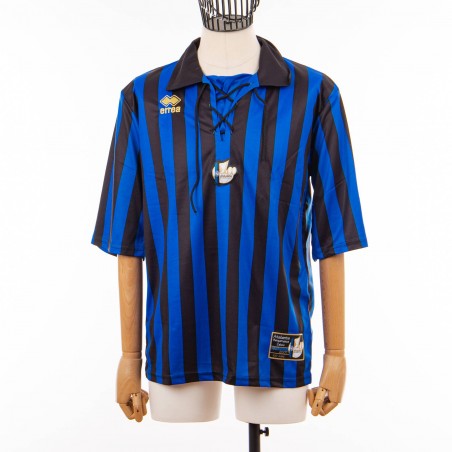 2007/2008 Atalanta Errea Match Jersey . The year 2007 represented a very important moment in the history of Atalanta: in fact, on that date the club celebrated the hundredth anniversary of its foundation.
There are several photos that testify to the conditions in which the product is found. The shirt is short-sleeved, light blue with black vertical stripes; on the front stands out a black stand-up collar that can be tightened with laces; in the upper right corner the logo of the technical sponsor is embroidered in golden colour, complete with the wording 'errea' at the bottom; towards the end of the left sleeve we find the embroidered Atalanta 100 writing, again in golden colour, and below this the numbers 1907-2007, to underline the historic birthday; in the centre, a sewn patch, a sort of fusion between a comet and a ball, with the number 100 inside and the words ATALANTA and, smaller, BERGAMASCA CALCIO, with also two black and blue vertical bands spaced out by a small club logo; on the bottom of the shirt, on the left side, the same composition is reproduced, again stitched, but this time included in a black rectangle bordered in gold, again with the name Atalanta Bergamasca Calcio, in white, followed by the numbers 1907 and 2007, delimited by two lines gold-colored, one written in a small horizontal blue band the other in another black one, and, below these, the inscription 100 YEARS.
The back of the shirt, on the other hand, is simply light blue with black vertical stripes.