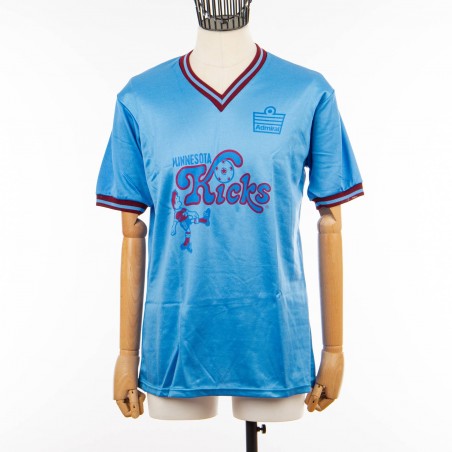 1981 Minnesota Kicks Admiral Jersey. The Minnesota Kicks US soccer team made its appearance in the North American Soccer League in 1976 until 1981. It, in particular, enjoyed some success with the public which allowed them to reach the seasonal average of 31,000 spectators. Unfortunately in 1981, due to the league's economic problems, it ceased to exist, as did many other teams in the competition.
The product is perfectly visible from the photos relating to it. The shirt has short sleeves and the predominant color is light blue, even if there are evident amaranth details, such as the sinuous V neckline and the edges of the sleeves, both spaced out by a light blue band.
In the center of the shirt, top left, we notice other elements all applied in sublimation: always in light blue but darker, the commercial sponsor, complete with the writing Admiral inside the company logo; below this dominates the logo of the American team, consisting of the light blue wording MINNESOTA, followed immediately below by the word Kicks, in greater proportions than the other and made in artistic style, with the colored letters of the usual dark blue , but edged in amaranth; to conclude the Minnesota Kicks logo, under the two writings, slightly to the right, the presence of a footballer colored with the light blue of the shirt, the dark light blue of the letters and the amaranth, who kicks a ball: this, in fact, constitutes the dot of the 'i' of Kicks, and has the same colors as the footballer, and inside there are stars that appear as a clear reference to the American flag.