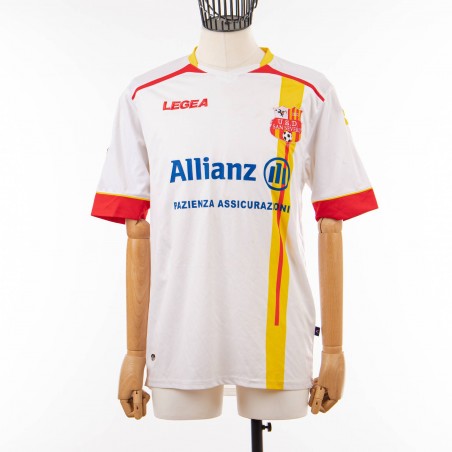 2016/2017 San Severo Legea 7 Match Jersey. The San Severo Calcio 1922 football team currently plays in the Eccellenza- Gruppo A of the Puglia region. However, a clear patch from the Lega Nazionale Dilettanti, as well as the wording Serie D sewn on the right sleeve, show that the club can boast, at the very least, participation in the first prestigious national football competition, after the professional ones.
The product is clearly visible from the many photos. The color that most distinguishes the shirt is white, but there are yellow and red inserts in some parts of the uniform and above all two large red horizontal bands at the ends of the sleeves, short, edged in yellow: all in sublimatic; on the left side there is a long yellow band, printed in light plastic, which meets the embroidered yellow and red logo of the club, from which then starts a red stripe that reaches almost to the end of the yellow band itself; on the right side the name of the technical sponsor LEGEA, embroidered in red; in the center of the shirt is the writing of the commercial sponsor in Allianz blue thermo-applied, followed by the company logo, and at the bottom by the writing PAZIENZA ASSICURAZIONI.
On the back, a huge number seven, thermo-applied and in red, stands out against the white background of the rest of the shirt.