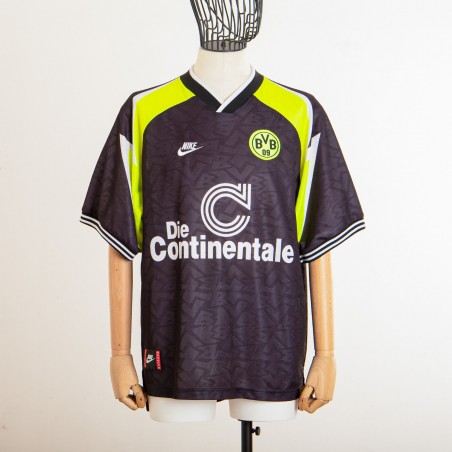 Stagione: 1995/1996
Condizioni del prodotto
Shirt in perfect condition, no fabric imperfections, looks like new. Also present the manufacturer's label with size XXL.
DETAILS
Borussia Dortmund jersey season 1995/1996 black color with yellow and white inserts. Nike logo embroidered on the right side of the chest, Borussia logo stitched on the heart side. Commercial sponsor logo in the weave on the front, sublimation DORTMUND lettering on the back.
ANECDOTES AND INTERESTING FACTS
Borussia, led by Ottmar Hitzfeld, won the national title. Once again Borussia led the clash at the top but this time the opponents were Bayern Munich. The latter, even though they conceded in the final of the championship, became champions in the UEFA Cup.
TOP PLAYERS: Schumacher, Julio Cesar, Kohler, Riedle, R.Sosa.
CLASSIFICATION IN CHAMPIONSHIP: 1°.