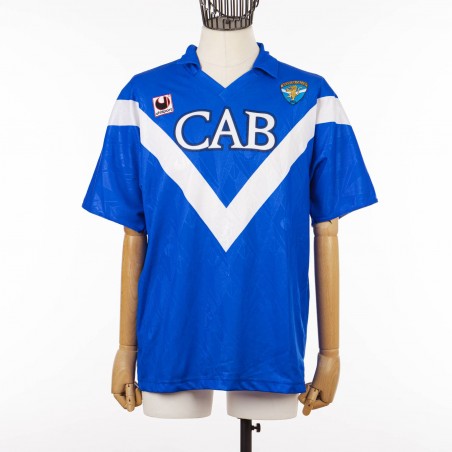 Brescia home jersey with short sleeves, made by the sponsor Uhl sport for the 1992/1993 season and personalized with the number 15. The model is in excellent condition, without stretch marks, halos or stains in the fabric and the colors are vivid. Size L.
The Brescia jersey is entirely blue, with a V-shaped band that crosses the chest and arms. The emblem of the sports club is sewn on the left side of the shirt, while the logo of the technical sponsor Uhl is present on the right side, while in the center that of the commercial sponsor Cab. The customization with the number 15 can be read on the back.
This jersey, worn by the players in the 1992/1993 season, marks the return to Serie A after 5 years of the Brescia team and is also worn by new signings, such as the Romanian playmaker Gheorghe Hagi and his compatriots Florin Răducioiu and Ioan Sabău. The coach Adelio Moro, however, is unable to drag the team into the safety zone and at the end of the championship, Brescia slips into Serie B.