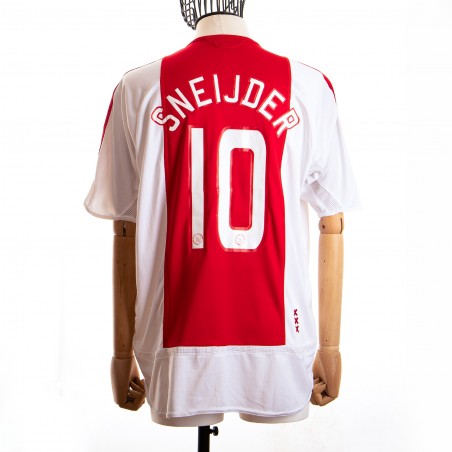 Preserved jersey in excellent condition with no imperfections. Present inside both the manufacturer's tag and the label with the size XL.
DETAILS
Adidas short-sleeved shirt white with red vertical band. On the front are embroidered the Adidas logo and the team logo while on the left side is sublimated the logo of the commercial sponsor Abn-Amro. On the back are printed number 10 and lettering SNEIJDER.
ANECDOTES AND CURIOSITIES
Ajax did not manage to win the championship but did win the Dutch Cup and the Dutch Super Cup. Striker Huntelaar stood out with 36 goals in the season.
TOP PLAYERS: Sneijder, Huntelaar, Davids, Babel, Van der Wiel.
CLASSIFICATION IN CHAMPIONSHIP: 2°.