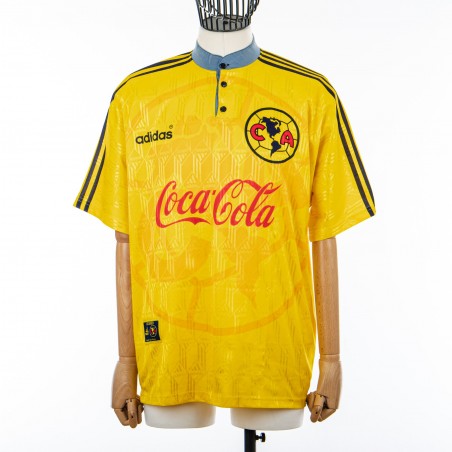 Home Club América shirt, signed by technical sponsor adidas for the 1998/1999 football season. XL size.
The predominant color is yellow, which goes perfectly with the blue collar with the 3 black buttons. The three distinctive lines of an Adidas garment are visible on the shoulder straps. The sub-texture of the jersey features the Adidas logo repeated with complex geometric shapes.
The Club América crest, the technical sponsor Adidas and the commercial ones Coca Cola and Sol on the back are represented on the kit in a sublimatic style.
In 1998, América and Guadalajara made their first appearance in the Copa Libertadores, making them the first Mexican clubs to participate in the tournament. Despite their position in the group stage, América qualified for the round of 16. However, their journey was cut short when they were eliminated by River Plate.