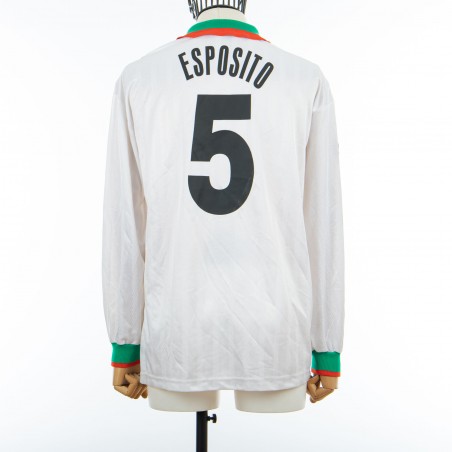 2002/2003 Ternana Errea Esposito 5 Away Jersey. Jersey of the former Ternana midfielder 2002/2003, Massimiliano Esposito. Eighth place in Serie B. No commercial sponsor.
The product can be clearly seen from the following photos. The shirt has long sleeves, has a red and green stand-up collar with a slight V-neck, cuffs always in green and red, and is mainly characterized by the white colour; in the centre, from the other left to the lower right of the article, we find two large oblique red and green bands, broken only by a white rectangle which reveals the absence of the commercial sponsor; at the top left, on one side of this two-tone band is the club logo, while on the opposite side, in sublimation, there is the green logo of Errea, technical sponsor, with related wording.
On the back, in large size and in black, the words ESPOSITO and the number 5 are applied.