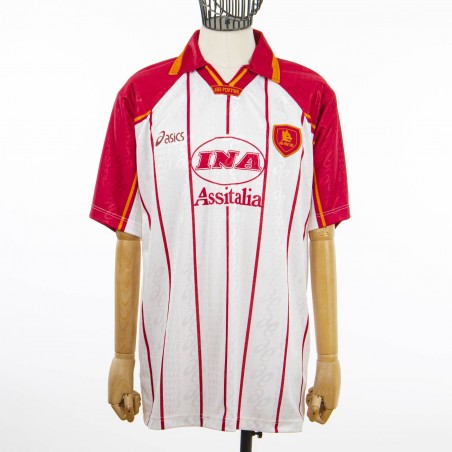 The shirt produced by Asics for the 1996/1997 season is in good condition, the fabric generally retains the characteristics original, except for small imperfections, it does not show opacity and discolouration. Size is XL.
Short-sleeved model in white with yellow-red inserts. The shirt is characterized by the presence of the Asics logo and Roma lettering in the weave. The top, shoulders and sleeves are red, while the knit collar and V-neck are red with orange inserts. Seven red stripes fall vertically ending on the bottom hem of the shirt. On the front, on the heart side, the AS Roma crest is sewn, on the right the logo of the technical sponsor Asics is embroidered, while in the centre, in sublimation, the commercial sponsor Ina Assitalia. The number 22 is applied on the back.
The season turns out to be unfortunate, Bianchi is replaced by Liedholm: the Swedish coach leads the capitolini to safety, with the final twelfth place.