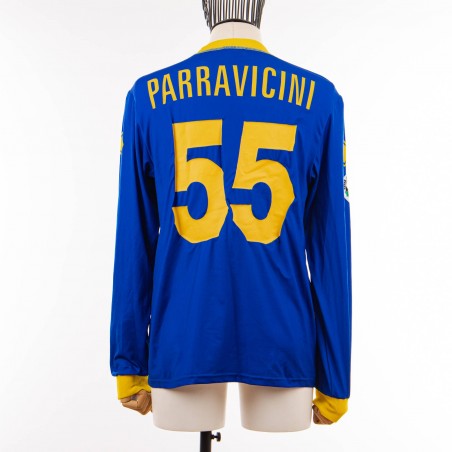 Parma long-sleeved away jersey made by the technical sponsor Errea, in collaboration with the commercial sponsors Gimoka and Play Radio, for the 2006/2007 season. Personalization with the number 55 Parravicini, size L. Model conforming to the conditions that can be inferred from the attached photographic evidence.
The Parma away kit is light blue with a yellow cross running forward across the entire model. The cuffs and collar in elastic fabric are yellow. On the chest you can see the brand of the technical sponsor Errea, the emblem of the sports club and the brand of the commercial sponsor Gimoka. On the heart side, however, the second commercial sponsor Play Radio is applied. The Errea logo is referenced on both sleeves, in yellow, but the patch of the Italian football league is sewn only on the right arm. On the back of the model, the personalization with the number 55 Parravicini in yellow can be read.
Former Milanese midfielder Francesco Parravicini made his Serie A debut in 2005 with Treviso, but wore the Parma shirt from 2007 to 2009, the club for which he made 33 appearances.