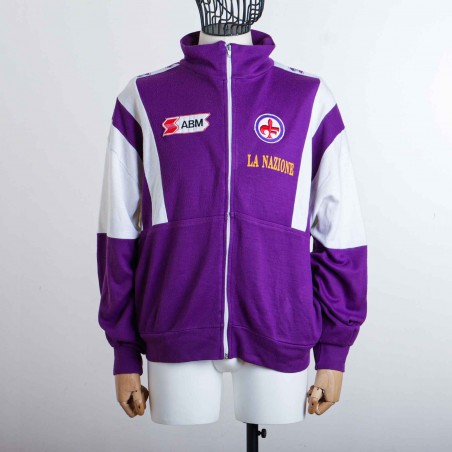 Stagione: 1990/1991
Condizioni del prodotto
The jacket is in good condition with details and stitching intact. There is no size label present inside. XL fit.
DETAILS
The weave features the ABM logo sewn on the right side. The crest of the club is sewn on the heart side. The commercial sponsor La Nazione is painted in yellow on the heart side. 
ANECDOTES AND CURIOSITIES
Fiorentina's 1990/1991 season did not begin in the best of ways. The society surrendered the star player Roberto Baggio to Juventus, unleashing the wrath of the purple fans. The championship ended with a dull 12th place.
TOP PLAYERS: Fuser, Orlando, Borgonovo, Iachini, Dunga.
CLASSIFICATION IN THE CHAMPIONSHIP: 12TH.