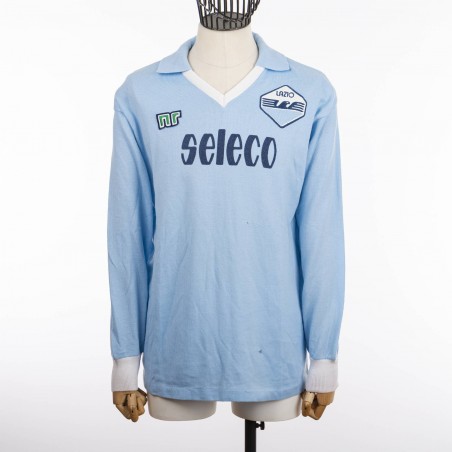 The home shirt made by Ennerre for the 1983/1984 season is in good condition, the color is still vivid. present some imperfections and a seam. L / XL fit. Size 50
Light blue long sleeve home model. The uniform has a jersey collar with a white V-neck in dialogue with the cuffs. On the front, on the left, the company logo: the stylized blue eagle is embroidered inside a diamond shape. On the right the logo of the technical sponsor Ennerre is sewn, in the center the commercial sponsor Seleco is applied in patent leather. The stylized eagle in navy blue is also applied in patent leather on the back.
The year seemed to open under the best auspices for the newly promoted Lazio, first for the return to the top flight after three years in the cadetteria, and then for the return of the unforgettable flag Giorgio Chinaglia, who had just become the club's majority shareholder. Despite this, the Lazio eleven finally closed the tournament in a painful thirteenth place, reaching safety on the last day.