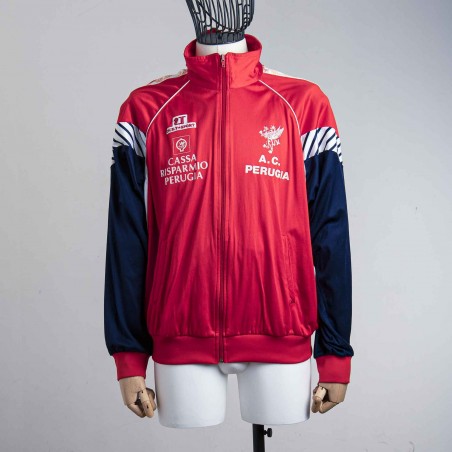 Preserved jacket in excellent condition, details are still intact. Present all'itnerno the label of size 52, XL fit.
DETAILS
Perugia full zipper jacket season 1991/1992 red color with white and blue inserts. The AC Perugia logo and lettering are painted on the front, heart side, while the logo and lettering of the commercial sponsor Cassa di Risparmio di Perugia are painted on the right side, along with the sewn-in logo of the technical sponsor 2T Sport. The coats of arms of Perugia are in the weave on the shoulders.
ANECDOTES AND CURIOSITY
The Perugia lived a period of stasis, from years it did not succeed to return in the greater soccer and it barcamenava between C and B. In this season there was but the point of turning with the acquisition of the society from part of Luciano Gaucci.
TOP PLAYERS: Traini, Dossena, Beghetto.
CLASSIFICATION IN CHAMPIONSHIP: 3° (Series C).